Handmade Ragdolls, soft toys/plushies and doll clothing.
Ragdolls come in different sizes, with different coloured hair and different faces. Clothing colours are customisable and a name can be embroidered onto the front or back of the dolls.
Soft toys or plushies are luxuriously soft and plush. Most of them come in different sizes and colours are customisable. A name can be embroidered onto the soft toy.
Doll clothing and accessories are for Baby dolls and Girl dolls.
Baby Dolls, like Babyborn, are 43cm in length, and other baby dolls are 38 and 32cm.
Girl Dolls are 18″ (45cm).  These are for dolls similar to the Holly doll that I make as a cloth doll as well as
South African Girl Doll, American Girl Doll, Tonner Imagination Doll, Our Generation Doll and generic 18″ dolls.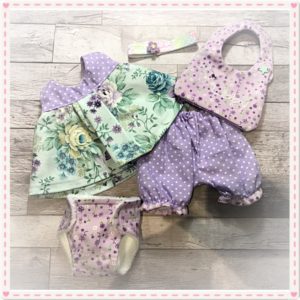 Clothing and accessories are made to fit according to standardised patterns for the above dolls.
As I am still designing most of the dolls' clothing and accessory range, items will trickle through as they are finished.
You are most welcome to 'visit' my shop here on my website as well as like my Facebook page to stay up to date with new items as I complete them.